Boyle finally breaks through with Golden Mile victory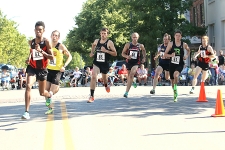 July 11, 2014
Amanda Eccleston cruised to her victory in the Women's Elite race, finishing in 4:36
By Chris Dobrowolski, The Record Eagle
Ian Boyle was finally able to win the 5/3 Bank Golden Mile. Boyle, who had never finished higher than fourth after running in the Golden Mile four of the last five years, captured the Men's Elite race on Thursday, surging from third place to the front of the pack late in the race with a winning time of 4 minutes, 4 seconds.
Amanda Eccleston cruised to her victory in the Women's Elite race, finishing in 4:36 for a convincing win over Sarah Boyle (4:43) and Rebecca Tracy (4:45).
But while Eccleston was in control for much of the women's race, Ian Boyle, of Very Nice Track Club, provided the drama in the men's race. He trailed Frezer Legesse of Team Indiana Elite and Tony Filipek of Hanson's Yellow Team for most of the run, only overcoming both runners in the final 250 to 300 meters. Legesse finished in a time of 4:07 and Filipek was third in 4:10.
Continue reading at: www.record-eagle.com