Branch Brady recalls a Milestone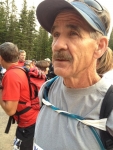 May 26, 2015
"It's the best event, no doubt about it in my mind. The Mile is THE premier track event, I think."
By Scott Mansch, Great Falls Tribune
Branch Brady has an anniversary coming up this week. A running anniversary. On May 30, 1965, the Great Falls Tribune reported that Brady, a high school senior, ran a 4:15.3 Mile to break the Montana state record. Branch set state high-school records at 880 yards, one Mile and two Miles as a senior at Great Falls High that year, which also included a memorable race against the great Jim Ryun. Branch, who retired after a long career as a teacher and coach at C.M. Russell High but continues to help mentor Rustler runners, visited with Sports Columnist Scott Mansch this week for our Sunday Conversation.
Q: I've got the newspaper clipping here, Branch, with big headlines. It's nearly 50 years since you ran a 4:15.3 Mile. Wow. What do you remember about that?
A: Oh, it was fun. It was in Billings and I was supposed to run against Doug Brown (Red Lodge native and Montana Grizzly legendary runner) that day. But for some reason he didn't and I ended up running against one of his teammates. Everything just clicked. I ran well. It was a great day for me.
Continue reading at: www.greatfallstribune.com