Brannen back on road to Rio after recovering from foot-tear injury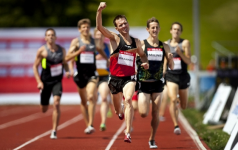 October 20, 2015
Two-time Canadian Olympian and indoor Mile record holder won 2015 Pan Am Games 1500 silver medal
By Greg Mercer, The Record
Nathan Brannen had just run his way to a silver medal at the Pan Am Games this summer and was getting ready for the World Championships in Beijing — then he felt a twinge in his left foot.
Cambridge's two-time Olympian, one of Canada's top 1500 meter specialists, first thought he could run through it. But soon the pain became so great he worried he had a stress fracture in the navicular bone in his foot.
After a long career that has included four NCAA titles, four World Championship appearances and two Olympic semifinal races, Brannen feared this might be it.
"It's the number one reason most runners end up leaving the sport. When they break that, it's usually a career-ending injury," he said over the phone from Scottsdale, Arizona, where he often trains in the winter. "It was painful enough that I thought I had a broken bone."
Continue reading at: www.therecord.com