Brenda Martinez giving back in abundance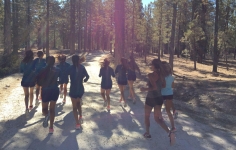 April 05, 2017
For the fifth year, the 2016 Olympian aims to inspire high school runners at a summer camp she hosts in Big Bear, California: "I appreciate my life more because of them."
By Heather Mayer Irvine, Runner's World
It was a phone call with her famed coach, Joe Vigil, that sparked the idea. Olympian middle distance runner Brenda Martinez talked about running goals, sure, but she knew her message could go beyond the track.
"I told coach I wanted to give back to the community, but I didn't know how," Martinez, 29, a middle-distance track runner and 2013 World Championship bronze medalist in the 800 meters, told Runner's World by phone.
Martinez had spoken regularly at high schools and running camps, so Vigil suggested she start her own running camp for young girls. So that's what she did when she brought together five California middle school and high school girls in 2013. While there's currently no official camp name, this summer will mark the camp's fifth year, slated for the end of June, after USA Track & Field National Club Championships.
Continue reading at: www.runnersworld.com