Brief Chat: Anthony Whiteman, Sub-4:00 at 40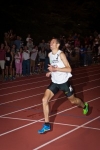 June 07, 2012
By Phil Latter, Runner's World
When 40-year-old Anthony Whiteman ran 3:58.79 last Saturday to win the Music City Distance Carnival's elite Mile race, he became the first Masters runner (40 & older) to break 4:00 outdoors. (Ireland's Eamonn Coghlan, Chairman of the Boards, accomplished the feat indoors in 1994.) A British Olympian in 1996 and 2000 with PRs of 3:32.34 for 1500 meters and 3:51.90 in the Mile, Whiteman took a six-year hiatus from the sport before launching an unexpected comeback in 2010. We spoke over calzones at the Mellow Mushroom in Asheville, N.C., on June 5, one day before Whiteman set a Masters world record of 1:48.22 for 800 meters.
It seems like a lot of hopeful record setters try to get into a large meet like the Prefontaine Classic and just hold on for dear life. You flew to Nashville. What made you think running at The Music City Distance Carnival was ideal?

Anthony Whiteman: I got a Facebook message [from Dave Milner, director of the Distance Carnival] asking if I'd thought about where I was going to try and break 4:00. I figured America was the place to do it. There's a greater interest in the Mile and the conditions here are better as a country – warmer, less chance of showing up fit and with good pacers only for it to be 50 degrees. I asked Dave if I could keep him on the backburner because I had some information from a British coach in Oregon who thought I had a fairly good chance at running in Eugene [at the Prefontaine Classic].
The coach said, "You come out here and run for the British Milers Club in a British Milers Club vest and Nike will pay for your travel and accommodation. They'll put you in the International Mile because the Bowerman Mile will be a bit too much for you" – which I agreed with – "and away you go." So it was all set up. I told Dave I think this is a positive thing for me. It's an historic meeting, it has an historic name, so when you have something historic happening, shouldn't it be there? I would think it would be.
This was going back-and-forth and finally I heard the news that they didn't want me to run. I'd have to look back in an e-mail to see what they specifically said, but it was just kind of like, "You're not good enough." Which was fine, because I then put on Twitter a statement that said, "The best thing you can do is tell me I'm not good enough." Because I'll go away, and I'll work harder, and I will shove it down your throat.
That's part of [why I ended up] in Nashville. I watched the race video from last year for a reason. The leaves were not moving in the shot, so there's no wind. There were guys warming down in the background without their shirts on. Okay, it's obviously warm. Straight away, I knew that tick, tick, tick, the conditions were perfect. The only thing I was disappointed about was that my parents were going to come, but – and here I should be political – the way things turned out, the way it fell through, it was a last-minute thing with me coming to Nashville. It's a shame because it's a lot more interesting from a tourist perspective than Oregon.
I was just disappointed. The premier meet in your country totally dropped the ball.
So you take that motivation, that anger, that chip on your shoulder and you come out to Nashville instead. The rabbit takes Tony Jordanek through 800 in 1:55, but you lay off the pace at the front of the chase pack. Once that rabbit steps off at 900 meters I watch you start closing like a madman on the leader. 

AW: You say madman, I say perfectly even pace. My splits were like 59, 59. My third quarter was a bit outside 60 even though I closed on Jordanek. So I hit the tempo and knew I was going to do it. Pace judgment has always been something I'm very good at, and I executed that. When we arrived at 1200m, I was in the box seat because I hadn't expended as much energy. There's a picture of us there on Facebook. [Jordanek] commented he was getting tight. I commented back "Lactic City in the Music City." He was struggling there. He just took a bit of a draft off me, and then I was strong enough in the last lap.
To be honest, I discussed it with him after the race because I do a lot of mentoring. Soon enough I'm going to stop – I'm not going to run forever. I'm happy enough to pass on my advice. I'd like to come back next year and be in the same race. And I hope he goes there and I see him run even pace, and come through in the last lap and win the race, because then I'd know he actually learned something. And that's how we all improve. Experience. We have to fail first as an athlete.
I always joke with my runners about the film "Top Gun." You have the instructor, Jester, the other guys – they know they're not as good [as Maverick], but if you make a mistake, they'll be there. They don't have the fastest reactions, their physicality is not as great, but if you make a mistake, they're on it. The guy made a mistake on Saturday and I was on it, both in winning the race and on time. If he hadn't made that mistake, I might not have been able to get past him. And that's just using your experience.
Continue reading at: runnersworld.com