Bulldog Mile gets West York students active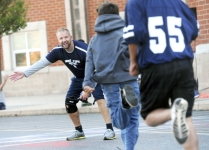 October 26, 2013
The annual event promotes physical activity and raises money for the middle school fitness center.
By Angie Mason, York Daily Record
YORK, Pa. - Seventh-grader Jeremiah Cuadro had a goal when he participated in the fun run portion of the 6th Bulldog Mile at West York Area Middle School Friday morning.
He wanted to run faster than his homeroom teacher, whom he had bet he could beat that morning. And he did, he said after he'd finished the run.
The entire middle school participates in the Bulldog Mile, which includes both a competitive race as well as a fun run/walk. Students in grades six through eight cheered from the sidewalk as their peers in the competitive race took off around the campus, then they lined up grade by grade for the fun run.
"It gets everyone in shape," Jeremiah said. "It's fun to do when you're with your friends, no matter who wins."
Continue reading at: www.ydr.com