Burleson Headed to Collegiate Athlete Hall of Fame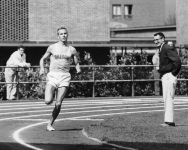 April 28, 2023
Two-time Olympian, who won two NCAA Mile titles, one of 14-member class to be inducted Sept. 14 at the Hult Center in Eugene
From University of Oregon Athletics
EUGENE, Ore. – Oregon great and three-time NCAA champion Dyrol Burleson is headed to the Collegiate Track & Field / Cross Country Athlete Hall of Fame as announced Wednesday morning by the U.S. Track & Field and Cross Country Coaches Association (USTFCCCA).

The Cottage Grove, Ore., native is part of a 14-member class that will be inducted Thursday, September 14, 2023, at the Hult Center in Eugene. The ceremony will be open to the public and be two days prior to the Prefontaine Classic (Sept. 16-17) which will double as this year's Diamond League Final.

Undefeated against collegiate competition during his UO career, Burleson ran to the 1960 NCAA title in the 1500 meters followed by back-to-back titles in the Mile in 1961 and 1962. That win in 1962 helped lead the Men of Oregon to their first NCAA team title with 85 points in front of the home fans in Eugene.

In April 1960, Burleson became the second sub-four Miler in American history and the first to break the milestone barrier at historic Hayward Field. With his time of 3:58.6, he broke the American record in the Mile. He also set an American record in the 1500 meters of 3:40.9 in 1960. Burleson finished his running career with bests of 3:38.8 (1964) at 1500 meters and 3:55.60 (1963) in the Mile.

As a senior, Burleson added a third American record to his credit with his 8:42.5 over 2 miles in 1962. In May of that same year, he anchored the Ducks' 4xMile relay to a then-world best time of 16:08.9 with teammates Archie San Romani, Vic Reeve and Keith Forman.

Competing at a time when freshmen weren't allowed to compete, Burleson won gold at the 1959 Pan American Games in the 1500 meters. He was also a five-time U.S. champion in the event including wins at the 1960 and 1964 Olympics Trials.

Burleson first qualified for the Olympics as a sophomore (1960), and had sixth- and fifth-place finishes in 1960 in Rome and 1964 in Tokyo, respectively.

Burleson joins fellow UO icon Steve Prefontaine who was inducted in 2022 as a member of the inaugural class of the Collegiate Athlete Hall of Fame. Burleson was also part of the 1993 induction class to the UO Hall of Fame.

Collegiate Athlete Hall of Fame
Class of 2023 (second overall)
Dyrol Burleson (Oregon, 1959-62)
Michael Carter (SMU, 1980-84)
Joetta Clark (Tennessee, 1981-84)
Michael Conley (Arkansas, 1982-85)
Sheila Hudson (California, 1986-90)
Holli Hyche (Indiana State, 1991-94)
Edwin Moses (Morehouse, 1974-77)
Renaldo Nehemiah (Maryland, 1978-79)
Sonia O'Sullivan (Villanova, 1988-91)
Julie Shea (NC State, 1978-81)
Seilala Sua (UCLA, 1997-2000)
John Thomas (Boston University, 1959-62)
Wyomia Tyus (Tennessee State, 1964-67)
Dave Wottle (Bowling Green, 1969-73)

The Collegiate Athlete Hall of Fame was established in 2022. Eligibility for induction this year was limited to men who completed their collegiate eligibility prior to 2000 and women prior to 2010.