Cañon City graduate Tabor Stevens sets state record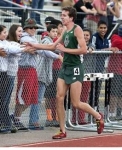 April 17, 2015
Adams State senior misses coveted sub-4 minute Mile by just over 1 second.
By Brandon Hopper, The Daily Record
He didn't get his ultimate goal, but there's no disappointment for Tabor Stevens.
The 2010 Cañon City High School graduate attempted to become the first ever person to run a sub-4 minute Mile at the Tiger Relays in La Junta on Friday and in the state of Colorado.
"I can't say I was bummed at all," Stevens said after his 4:01.27 Mile, which breaks the previous Colorado record by almost three seconds. "I went for it, and I knew I was going to need to have a big last lap, and I went as hard as I could. I went as fast as my legs could carry me. It wasn't good enough.
"It was worth doing it. Sub-4 is really hard to do, and I'll probably keep trying in the future to be the first person to do it in Colorado."
To run a sub-4, Stevens said it needs to be on a good track. He also has to find one that is low elevation for Colorado, which is what prompted this try in La Junta.
Stevens, 23, broke Rory Fraser's state Mile time of 4:03.99, set on May 3, 2013.
Continue reading at: www.canoncitydailyrecord.com