Centennial senior Dajour Braxton eyes sub-4 minute Mile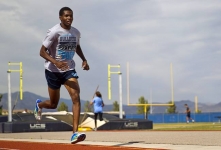 April 20, 2015
"We look at the objective of becoming below 4 minutes. We train against the clock. We cannot train against anybody else."
By Ray Brewer, Las Vegas Sun
Other runners were keeping pace early in the State Cross Country meet last November, striving for a chance to beat Nevada's best long-distance runner.
But Centennial High senior Dajour Braxton wasn't concerned with the competition. He doesn't notice others.
"I'm running for time, not just the win," Braxton said. "If I stick to the pace, at the end of the race, I will have the kick to win."
His times speak for themselves. And that kick at the end, when Braxton appears fresh and takes his stride into another gear, is impressive.
During the 3.1-Mile state race, Braxton set the state record in 15 minutes, 34.2 seconds. He led by three seconds at the 2-Mile mark but broke away for a more than 20-second victory. With his victory that morning at Sunset Park, he broke the course record — which he had set two weeks earlier.
Continue reading at: lasvegassun.com