Centrowitz, Rowbury Retain Wanamaker Mile Titles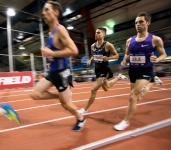 February 20, 2016
"You're never going to achieve any goals if you don't put yourself out there."
By Ken Belson, New York Times
The Wanamaker Mile is always the fitting finale of the Millrose Games, the country's premier indoor track meet, and this year's showdown between Matthew Centrowitz, the reigning champion, and Nick Willis of New Zealand did not disappoint.
Centrowitz, 26, of Eugene, Ore., and Willis, 32, ran the two fastest indoor Miles in the world last year in the Wanamaker. With the two stride for stride during that race, Centrowitz edged out Willis at the line, finishing barely a tenth of a second ahead in 3 minutes, 51.35 seconds.
This year, at the 109th Millrose on Saturday, both runners stayed in the middle of the pack for most of the race at the New Balance Track & Field Center in Upper Manhattan, letting the rabbit do most of the work. Willis ran in third place and Centrowitz in fifth until the three-quarter mark, when the leader peeled off and they bolted in front.
But with a lap to go, Centrowitz pulled away, and Willis had no answer down the stretch. Centrowitz finished in 3:50.63, a meet record and the 4th fastest indoor Mile ever, although still more than two seconds off the world record, set by Hicham El Guerrouj of Morocco in 1997.
Continue reading at: www.nytimes.com