Chasing the Dream: Runner Sets Her Sights on the Olympic Trials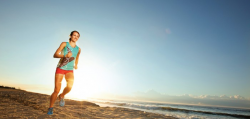 December 04, 2015
As long as I can rise to each challenge, I'll see how high I can go.
By Ryan Stellabotte, Fordham News
Kerri Gallagher, FCRH '11, figured her track career was finished in late May 2011. She'd been a star runner at Fordham, but the Belle Harbor, New York, native wasn't among the nation's elite. With a degree in math, she landed a job at Morgan Stanley. By August, though, she had a change of heart—and a chance to train with two-time U.S. Olympic team member Matt Centrowitz, head coach at American University. She quit the financial sector and moved to Washington, DC, eventually becoming an assistant coach at American.
Four years later, her leap of faith paid off. She surprised track fans this past summer by earning a spot on the U.S. national team at the World Championships in Beijing. Now she's training for next July's Olympic Trials—one big step closer to her dream of competing at the 2016 Summer Games in Brazil.
How did your family respond to your career move?
We're all pretty practical people, my family, and we're all very close. When I told my dad, he sat me down in the living room and reminded me that I'd be giving up a salary, benefits, and a pretty clear path forward. He wanted me to know that it was going to take a lot of work [to make it as a pro runner], and it was a very long shot that it would turn into anything. Once I made up my mind, though, my family was supportive. They didn't give me any pressure not to run.
Continue reading at: news.fordham.edu