Cheserek defends Kalakaua Merrie Mile in photo finish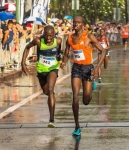 December 08, 2018
Fastest Mile clocked on Hawaiian soil; third edition, part of Honolulu Marathon weekend, draws more than 1,700 runners
From HawaiiNewsNow staff
HONOLULU - Hundreds of runners stretched their legs for a quick workout in the Kalakaua Merrie Mile Saturday morning, ahead of the 46th Honolulu Marathon.
At the third event edition, a total of 1,751 runners completed the course, while four professional runners completed the Waikiki race in under the coveted 4 minute mark.
Under wet conditions, Edward Cheserek of Kenya defended his Merrie Mile crown, just edging countryman Leonard Bett, 3.54.83 to 3:54.89. Cheserek's stellar performance is the fastest Mile ever recorded on Hawaiian soil; Bett #2 all-time.
The race also featured a gender challenge — female runners got a 26-second head start on the men and the first to cross the finish line was the race champion, worth $4000 for the win.
Mirriam Cherop, the fastest female runner and top female last year, came in third place at around 28 seconds after Cheserek.
The Honolulu Marathon begins bright and early Sunday at 5:00am and is expected to draw tens of thousands of runners.