Christina Aragon, Robert Peterson run away with Montana Mile titles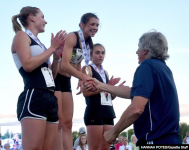 July 20, 2015
Olympic high jumper Dick Fosbury was present to award Christina Aragon with a gold medal for winning the women's Montana Mile during the Big Sky State Games opening ceremonies.
By Greg Rachac, Billings Gazette
Dick Fosbury, the man who transformed the high jump, addressed an eager Daylis Stadium crowd Friday during opening ceremonies for the Big Sky State Games.
The fear of losing, Fosbury said, is what pushed him to be what he eventually became — an Olympic gold medalist and a track and field icon.
That's not what motivates Christina Aragon. She's pushed by the fear of letting herself down.
"You want to take every race no matter what it is, run it hard, and feel like you got the most out of yourself that you could," the senior-to-be at Billings Senior High School said after winning her second Montana Mile title. "You don't want to think back and say, 'I wish I would have done something different.'"
Continue reading at: billingsgazette.com