Christopher DeShazo remembered by teammates, friends and family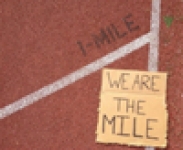 October 21, 2013
Group runs to honor the Pasco athlete who set high school Mile record
By Tyler Richardson, Tri-City Herald
PASCO, Wash. - Former Pasco High School cross country runners gathered along the Columbia River on Sunday to pay tribute to one of the program's fiercest competitors.
Christopher DeShazo's old coach told stories about his former star's most memorable races, including the day he set the Pasco High record for the Mile. The record of 4 minutes and 16 seconds still stands today.
DeShazo, 44, of Mesa, Ariz., was killed in a motorcycle wreck Oct. 10. His former teammates, friends and family gathered at the Road 54 boat launch in Pasco to run in his honor.
"When you run with a group of guys there is an unspoken bond," said DeShazo's brother, Gabe. "There's no other way to say goodbye to a runner than to run."
Continue reading at: www.thenewstribune.com