Colin Sahlman: 2022 TFN HS Boys Athlete Of The Year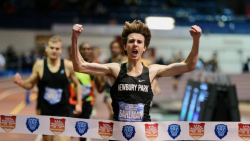 October 27, 2022
His Bowerman Mile time of 3:56.24 lifted him to #3 all-time on the U.S. high school list; only national recordholder Alan Webb and '60s wunderkind Jim Ryun ran faster as prep legends
By Sieg Lindstrom, Track & Field News
A goal-oriented athlete, as those who earn High School AOY honors tend to be, Colin Sahlman (Newbury Park, California), when asked to reminisce on his highlights-heavy senior season, admits, "Dang, I haven't really thought about high school in a while cuz it's just been mostly college focused." (See box for the AOY voting further below.)
College focused at Northern Arizona, that is, where Sahlman has followed former Newbury Park teammate and star Nico Young on to the NCAA's #3-rated cross country squad. Already this fall, Sahlman has contributed as fifth man (60th overall) to Mike Smith's defending national champ Lumberjacks' 3rd-place showing at the stacked Nuttycombe Invitational in his first collegiate race. More on that later.
But when it comes to his prep senior year, Sahlman could list a number of achievements as he ticks off the high points — including a December 2021 harrier race not considered by AOY voters because it wasn't on the track.
At the RunningLane Cross Country Champs, he led a stupendous Newbury team win by clocking 14:03.29 for the 5K route, the fastest-ever by a prep for the distance.
Leading a prep harrier squad widely acclaimed as the greatest ever is one thing. Doing so and also racing an 800 in 1:48.07 as the final race of one's senior season is another kind of feat altogether. We're talking serious range.
"But," Sahlman opines, "I'd say that definitely from the senior track season some of the key highlights would probably be that 4-by-Mile and then the Prefontaine Classic."
In the Pre Classic's über-elite Bowerman Mile, Sahlman raced to a 13th-place finish in a field of pros led by all-worlder Jakob Ingebrigtsen. His time of 3:56.24 lifted him to #3 all-time on the HS list. Only national recordholder Alan Webb and '60s wunderkind Jim Ryun ran faster as prep legends.
Sahlman's relay memory surely glitters for others as well. No fan on hand at New York City's Armory last winter to watch Newbury Park's 4 x Mile High School Record at the New Balance Indoor Nationals will soon forget it. With his brother Aaron & Nico Young's twin siblings Leo and Lex Young preceding him, Sahlman wove through lapped traffic with a 58.27 finish on a 4:03.74 to bring the stick home in 16:29.31. The time obliterated the previous HSR by 32-plus seconds.
"We got to experience a relay as a team, and breaking that national record as a team, which was really cool," Sahlman remembers. "We just decided to put one together, just go for it, and it was a super fun experience."
The relay went down on the second weekend in March, by which time Sahlman — with prep teammates stirring up the all-time lists as well — had already raced 3:58.81 indoors for the overall win, at the Armory's Sander Invitational, moving to #5 all-time on the prep absolute compilation.
Like XC, relays are not taken into consideration in AOY voting. Didn't matter. Sahlman was already well on his way with achievements that do count — even as he skipped the scholastic post-season and forewent his chance to win State titles.
Ultimately Sahlman's racing pushed a Miler to the top in the balloting for a second straight year following Hobbs Kessler's '21 coronation.
Continue reading at: trackandfieldnews.com