College Avenue Mile has wet yet successful first year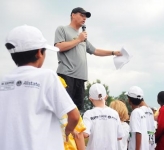 September 09, 2013
MU alumnus John Anderson, who hosts ESPN's SportsCenter and ABC's Wipeout, appears in Columbia on Sunday at the inaugural John Anderson College Avenue Mile
By Rebecca Dell, Missourian
COLUMBIA — Max Ferguson might just be the youngest Miler in Columbia.
The 2-year-old joined forces with his parents, Eric Ferguson and Jill Ferguson, in Sunday's inaugural John Anderson College Avenue Mile presented by Midwest Computech.
"He ran the whole way," Jill Ferguson said. "And made sure to hit all the puddles."
And there were plenty of puddles for him to jump in along the way. Despite a downpour before the race and thunder that persisted through the awards ceremony, runners and walkers cheerfully completed the trek down College Avenue from Broadway to Stadium Boulevard.
The race, which was sponsored by the Anderson Family Charitable Foundation and Midwest Computech, raised an estimated $30,000 for the Food Bank for Central and Northeast Missouri and various Columbia elementary schools.
Continue reading at: www.columbiamissourian.com