Competitive field of 12 set for 78th Longacres Mile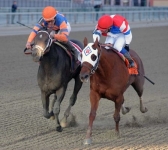 August 14, 2013
"Winning the Mile is as big to me as winning the Kentucky Derby."
By Scott Hanson, Seattle Times
AUBURN – They are coming from the North and South, the East and Midwest. Such is the draw of the Northwest's most prestigious horse race, the Grade III, $200,000 Longacres Mile.
Ready to meet the challenge of the invaders is a strong group of local horses in what appears to one of the most competitive Miles. It all comes together Sunday at Emerald Downs in the 78th running of the race for horses 3 years and older, and a full field of 12 was drawn Wednesday.
Handicappers will have a tough time picking a winner in this race. A good case can be made for just about every horse. The morning-line favorite at 7-2 is Politicallycorrect, a 4-year-old whose last race was a third-place finish last month in a Grade III stakes race at famed Saratoga (N.Y.) He will start from post No. 3.
Herbie D, the Canadian-based 5-year-old who was an impressive winner in last month's Mt. Rainier Handicap at Emerald, will start from the No. 10 post and is 4-1 on the morning line.
Owner Glen Todd of British Columbia-based North American Thoroughbred Company won the race last year with Taylor Said for his first Mile win, and he will try to repeat with Hoist, and Mr. Bowling, who he co-owns with Mark Dedomenico.
"The Mile is the biggest race in the Pacific Northwest,and winning the Mile was the best and most gratifying day I've had in horse racing," said Todd, who made the trip for the post-position draw at Emerald.
Riding Taylor Said to his Mile victory was Mario Gutierrez, who a few months earlier had ridden I'll Have Another to victories in the Kentucky Derby and the Preakness.
"Winning the Mile is as big to me as winning the Kentucky Derby," Gutierrez said moments after winning the Mile, and it sure seemed that he meant it.
Continue reading at: http://seattletimes.com