Cranny, Efraimson Clash Set for adidas Grand Prix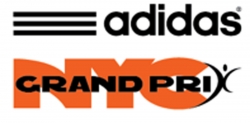 May 09, 2014
#1 and #2 in U.S. at 1500m to meet in Dream Mile on June 14
NEW YORK - Elise Cranny and Alexa Efraimson will go head to head at the adidas Grand Prix on June 14 in the biggest matchup the adidas Girls' Dream Mile has seen since it began in 2010, organizers have announced.
Tickets for the event, which is marking its 10th year of bringing the world's top athletes to Icahn Stadium on Randall's Island, are on sale now at www.adidasgrandprix.com or by calling 1-877-849-8722.
Cranny (Niwot CO), a senior, won the Mile at the 2013 New Balance Indoor Nationals in 4:40.62—putting her #5 on the all-time list—and won at 800 meters in the same meet this year. Ranked #1 in the U.S. outdoors this season at both 800 and 1500 meters, Cranny became the #2 high school girl all-time at 1500 meters on Sunday night when she ran 4:10.95 at the Payton Jordan Cardinal Invitational, finishing sixth in a field of college and professional athletes.
Efraimson (Camas, WA), a junior, succeeded Cranny as the Mile champion at the 2014 New Balance Indoor Nationals, and is ranked #1 in the U.S. at 3000 meters and 3200 meters in addition to her #2 spot at 1500 meters. The 2013 IAAF World Youth Championships bronze medalist at 1500 meters, she set an American Junior Record for 3000 meters (9:00.16) last winter, taking down a mark set the year before by Mary Cain.
The last time these two met they went 1-2 at Nike Cross Country Nationals last fall, with Efraimson prevailing in 16:50.1 to Cranny's 16:53.8.
More athletes for the adidas Dream Miles and Dream 100s will be announced soon.
Among the top professional athletes already announced are Olympic or World Champions David Rudisha, Jenn Suhr, Yohan Blake, Shelly-Ann Fraser-Pryce, Valerie Adams, Bohdan Bondarenko, Sally Pearson, and Christine Ohuruogu. One of the premier track-and-field events in the world, the adidas Grand Prix has hosted two World Records and 15 National Records in its first nine years, and its fans have had the privilege of witnessing almost a dozen performances that were the fastest ever recorded on U.S. soil.
The sixth stop on the international IAAF Diamond League circuit, the adidas Grand Prix is in its 10th year at Icahn Stadium, in conjunction with the Randall's Island Sports Alliance. The latest news, photos and information on the event can be found at www.adidasgrandprix.com; on Facebook (http://www.facebook.com/adidasGrandPrix); and on Twitter (http://twitter.com/adidasGrandPrix).