Cross Country Assistant Finishes Third in Bring Back the Mile Grand Prix Tour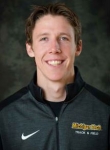 September 16, 2014
Tom Scott's top finish at Minnesota Mile, the Tour finale, secures position and GP money
From Michigan Tech sports
HOUGHTON, Mich. – Michigan Tech cross country graduate assistant coach Tom Scott has been making a name for himself in the running circuits across the Midwest. On Sunday, Sept. 7, Scott finished third in the Minnesota Mile to wrap-up a third place finish in the inaugural Bring Back the Mile Grand Prix Tour 2014.
The BBTM Grand Prix is a six-race series. Scott ran in three of the six races, finishing in the top five in each mile. Scott, a native of Lima, Ohio, was an All-America track runner at Ashland University before coming to Tech for his graduate studies.
"I owe a good portion of the success I had this summer to the men and women on the cross country team here at Tech," Scott said. "I see the hard work that they put in everyday and their drive to better themselves everyday. It inspires me to train hard and to try to reach my full potential as both a coach and an athlete."
The Ryan Shay Mile in Charlevoix, Mich., an invite-only event, was the third race of the circuit on July 26. Scott, running his first race of the series, finished fourth with a time of 4:05.01 to earn four points.
The Michigan Mile at Crim Festival of Races in Flint, Mich., was the second race on Scott's schedule on Aug. 22. He finished fifth overall in 4:16 and scored two Grand Prix points.
The final leg of the series was the Minnesota Mile in Duluth. Scott ran 4:05.3 to earn six points and finish third overall in the Grand Prix standings.
"I knew that if I wanted to earn the bronze in the Grand Prix I was going to have to place third or better," said Scott. "Before the race, Rob Finnerty and Jack Bolas were the top two in the points total, and I knew it would take a miracle to leapfrog them in the standings."
Continue reading at: www.michigantechhuskies.com