Dahlberg, Mericle Win First Pikes Peak High-Altitude Mile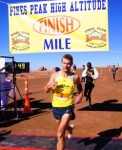 August 14, 2013
"It pretty much felt like a normal Mile, just slower," women's champion Mericle; inaugural event kicked off the Pikes Peak Ascent and Marathon week
By Tim Bergsten, pikespeaksports.us
Scott Dahlberg gulped down the thin air at 14,115 feet, looked around and knew it was time to go.
With a quarter of a Mile to run in the inaugural Pikes Peak High-Altitude Mile on Tuesday, August 13, Dahlberg (above right), an assistant cross country coach at Colorado State University, found himself in the lead pack with fast company.
The Kenyon duo of Sammy Kiplagat (the 2012-13 winner of the Dallas Rock 'n' Roll Marathon), and Leonard Korir (2013 Garden of the Gods 10 Mile champ) pushed the pace. And Dey Dey, the blazing winner of the Bristol Mile (3:53) who grew up in war-ravaged Sudan, had tucked into their slipstream.
"I told myself I didn't come all the way up here to sit back," Dahlberg said. "If I'm going to do, it has to be now."
With the altitude burning away the last of his strength, Dahlberg kicked for the finish line and win in 4 minutes, 46 seconds on the summit of Pikes Peak.
"It's kind of uncharted territory running this hard of intensity at this high of elevation," said Dahlberg, a former high school state track champion at Peyton who now runs for the Boulder Running Company / adidas team. "For me the strategy was just to feel it out as the race progressed. I could kind of feel that my breathing wasn't getting worse through the mid-way to about three quarters, so I just decided to push the threshold a little more, since it wasn't getting much worse and it panned out well."
A small crowd that gathered in the crisp sunlight atop the famous 14er cheered as the runners kicked for the finish line.
"I knew Dey Dey was right next to me and he has tremendous speed, but speed at 14,000 feet is a little different story," Dahlberg said. "So I just tried to give it everything I had at the end."
In the women's race, Boulder Running Company / adidas teammates Nicole Mericle, Shannon Payne, Rochelle Kanuho and Adrian Chouinard were the only women runners to test themselves in the harsh altitude.
Mericle, of Boulder, took the win in 5:53.37. Payne, Colorado Springs, was runner-up in 5:58.32, followed by Kanuho of Flagstaff, Ariz., 6:09.98, and Chouinard, Colorado Springs, 6:13.37.
"It pretty much felt like a normal Mile, just slower," Mericle said. "I was able to move at the end. That was big worry that I was going to hit some big wall and then be crawling to the finish."
Payne took the lead early in the race and held it until the final two of six laps on the gravel course. She said the full-blast Mile at high altitude hurt, but it was manageable.
"It was painful, but it was fun," said Payne. "With shorter races you can kind of bite the bullet."
Organizers of the Triple Crown of Running added the Pikes Peak High-Altitude Mile this year.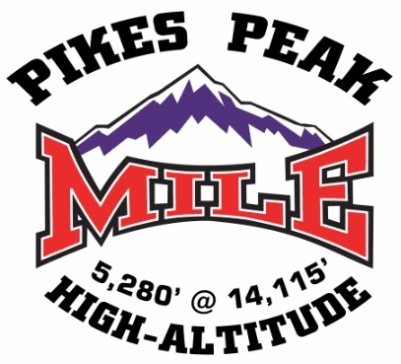 "The Pikes Peak races have always been for the mountain and trail runners," said Ron Ilgen, president of Pikes Peak Marathon, Inc. "We wanted to add a race that would include a different kind of runner, get more people involved on Pikes Peak. I can't be any happier with the way things turned out today. We had great races and we have great champions in Scott and Nicole."
The High-Altitude Mile kicked off the Pikes Peak Ascent and Marathon week. The Ascent, a 13.32-mile race to Pikes Peak's summit, begins at 7:00am on Saturday in Manitou Springs. The marathon starts in Manitou Springs at 7:00am Sunday.
Visit www.pikespeakmarathon.org for more information.