Decatur students target obesity with 1-Mile fitness run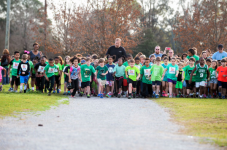 March 22, 2016
"This gives all our students an opportunity to do something with their parents watching."
By Deangelo McDaniel, Decatur Daily
Hudson Collins could hear his classmates yelling his name as he raced to the finish line of the 1-Mile run for magnet school students Thursday at Delano Park.
He didn't take time to look at them because his eyes were focused on the time clock as it raced past seven minutes.
"I was thinking about how my teacher told me to run hard when I get to the finish line," the Benjamin Davis student said.
Continue reading at: decaturdaily.com