Drew Hunter: Homemade Champion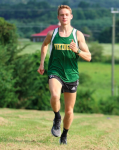 September 28, 2015
In the coming year he might even become the 8th U.S. high schooler to break 4 minutes in the Mile. Or the first boy from Northern Virginia to win the Foot Locker Cross Country Championship.
By Dickson Mercer, Run Washington
Marc and Joan Hunter, the head coaches at South Lakes High School, knew they had a superstar.
They marveled as this kid finished second in the state in cross country. They watched in awe as the freshman — a freshman — went on to win the two Mile in the spring.
Marc and Joan had met through coaching. Marc was then in his 10th year at South Lakes and Joan had joined him there after getting her own start at James Madison High School.
Marc had been an All-American who had discovered a passion for coaching after being sidelined by injuries. Joan had been a successful middle distance runner with a background in exercise physiology who came to enjoy coaching more than her own running.
This is to say that the Hunters were pretty pumped to have a kid, like Alan Webb, who was "off the charts," said Marc. "We were just going [crazy]" thinking about his potential. The thing was, the Hunters had other kids, too: three of them, all toddlers. Thus, their dilemma.
Continue reading at: runwashington.com