Dyrol Burleson Interview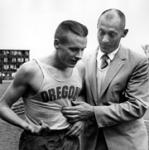 May 01, 2012
Greatest running moment: That first sub-4 Mile on Hayward Field thanks to Ernie Cunliffe – that would be it.
By Gary Cohen
Dyrol Burleson was a member of the 1960 and 1964 United States Olympic teams in the 1500 meters where he finished in sixth and fifth place, respectively. He won the 1960 and 1964 Olympic Trials 1500 meters which were two of his five USA Championships at 1500 meters or the Mile. Dyrol was undefeated in his three years of collegiate competition including NCAA titles at 1500 meters in 1960 and the Mile in 1961 and 1962. The Oregon Duck was the first to receive a full track & field scholarship from legendary coach Bill Bowerman and the first to run a sub-4:00 Mile at Oregon's storied Hayward Field. He broke American Records at 1500 meters and the Mile two times each and once in the 2-Mile. Dyrol was a member of the World Record 4 x Mile relay and 1959 Pan Am Games 1500 meter gold medalist. He graduated from Cottage Grove (Oregon) High School where highlights included winning the Oregon State Cross Country Championship in 1957, the State Mile title in 1958 and breaking the National High School Mile Record by nearly three seconds in 4:13.2. His personal best times include: 880y – 1:48.2 (1962); 1500m – 3:38.8 (1964); Mile – 3:55.6 (1963) and 2 Miles – 8:39.6 (1966).
Dyrol has been inducted into the USATF Hall of Fame, the University of Oregon HOF, the State of Oregon HOF and Cottage Grove High School HOF. He earned both his undergraduate and Master's degrees from the University of Oregon and retired after 31 years with the Linn County, Oregon Parks system. Dyrol resides in Turner, Oregon with his wife, Deberra, and has two daughters.
Gary Cohen: In track & field we evaluate competitors' careers by championships, records and Olympic performances. When you look back at your three NCAA championships in the Mile / 1500 meters, five American Records and two top-6 finishes in the Olympic 1500 meters, what does this say about your competitive career?
Dyrol Burleson: I don't now really how to answer that except to say that I was real fortunate to have Bill Bowerman as a coach. I was raised about 15 miles south of Eugene so I had his direct influence on me the whole time. My high school coach who started me was Wallace Ciocehetti nnd then my junior and senior year my head coach was Sam Bell, though Coach Ciocehetti set me on the pattern. Our colors were blue and yellow at Cottage Grove High School and our workout sheets were green and yellow so you know where those colors came from. I was incredibly fortunate and wouldn't have done anything if not for circumstances putting me there and the influence of Bill Bowerman on Coach Ciocehetti and my running.
Continue reading at: www.garycohenrunning.com