Elle Purrier St. Pierre Dominates U.S. Olympic Trials 1500m
June 21, 2021
Cory McGee, Heather MacLean also set personal records to earn Team USA berths to Tokyo
By Taylor Dutch, Runner's World
Leading wire-to-wire, Elle Purrier St. Pierre convincingly won the women's 1500 meters at the U.S. Olympic Track & Field Trials on Monday in Eugene, Oregon. At the new, gleaming Hayward Field, Purrier St. Pierre, 26, crossed the finish line in 3:58.03 to win the national title while breaking the meet record and setting a personal record to make her first Olympic team.
Cory McGee, 29, finished second in 4:00.67 and Heather MacLean, 25, placed third in 4:02.09 to also qualify for Team USA heading to Japan this summer. All three runners set lifetime bests, and it is the first Olympics for the Tokyo trio.
In a tight battle down the homestretch, Shannon Osika finished right behind MacLean to place fourth in 4:02.18.
Purrier St. Pierre, a University of New Hampshire alum, assumed the lead from the gun, but she was elbowed off the track in the first 100 meters. After regaining her footing, she brought the field through the first 400 meters in 64 seconds with McGee and Dani Jones running behind her.
"I don't know what happened," Purrier St. Pierre said. "I was in the first lane, I was number one so I was obviously on the rail, and I think that when the girls cut in there was a collision somewhere that just kind of shoved me off and I just jumped back on the track as fast as I could and tried to not let it bother me, but also I think it gave me a little bit of a boost."
She continued to run from the front through 800 meters, blazing through the split in 2:09 with a chase pack beginning to form. At the bell, Purrier St. Pierre, McGee, Jones and Osika formed a pack of four up front. Meanwhile, MacLean came from behind to chase down the leaders in the last 400 meters, where a race for third emerged after the top group broke apart. On the backstretch, Purrier St. Pierre and McGee battled for the top position until the last 200 meters, where Purrier St. Pierre pulled away with a kick into the finish line.
"I've been dreaming of this moment for so long and it's really emotional and I'm just so happy, happy that my family is here to share this with me and my teammates and for everybody that's believed in me," Purrier St. Pierre said.
"I led most of it because I knew I believed in myself. I knew that I was strong enough to do that and I wanted it to be fast," she said.
Continue reading at: runnersworld.com
Per the below, this U.S. women's 1500 meters produced the deepest results ever in its history: first time the top 4 sub-4:03, first time the top 10 sub-4:08 plus 6 personal records!
U.S. Women's Olympic Trials 1500m
Hayward Field, Eugene, OR, Monday, June 21, 2021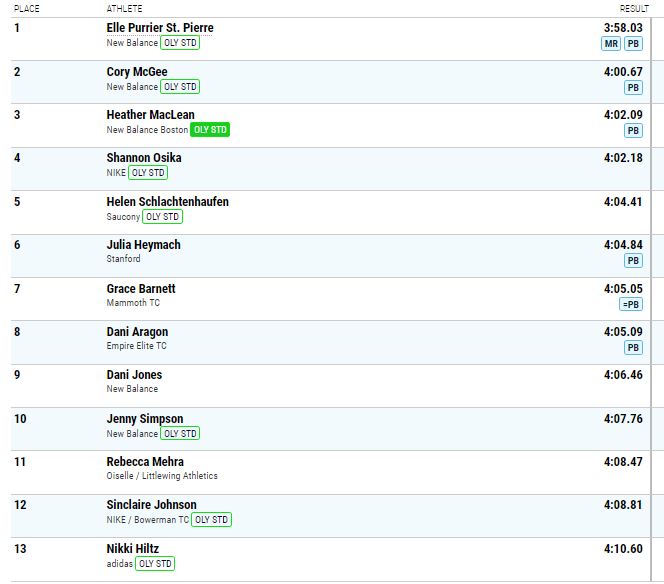 .