Erassa, Nalyanya Win The Navy Mile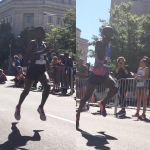 October 01, 2017
Third edition presented by USAA awards $15,000 Open prize purse; Bring Back the Mile Grand Prix #Tour2017 finale
From The Navy Mile
WASHINGTON, D.C. - On a beautiful fall Sunday morning in the nation's capital at the 3rd Navy Mile on Pennsylvania Avenue, presented by USAA, the elite heats yielded top finishing times of just over four minutes. Kirubel Erassa, 24, of Grayson, GA won the elite men's race in 4:05.20 (4:06 official), while Eglay Nalyanya, 21, of Kenya claimed the elite women's first place, clocking 4:44.30 (4:45 official). Both race champions received a $3000 cash prize.
Also placing in the elite heats in order were Willy Fink, Luis Vargas, Rio Olympian Ben Blankenship & Daniel Herrera and Rachel Weber, Margaret Connelly, Calli Thackery & Alyson McGonigle.
The Navy Mile included a family fun run and open heats for running enthusiasts, wounded warriors, paralympians and Sea Cadet youth as well as elite racers. This Mile road race festively kicked off the U.S. Navy 242nd Birthday month and Naval Heritage Week.
The top five female finishers and top five male finishers in each of the age groups received Potomac River Running Store gift cards, while elite male and female runners and the top three Sea Cadet teams were awarded receive cash prizes, including an overall $15,000 Open prize purse.
Modeled after the famous Fifth Avenue Mile in New York City, the Navy Mile is designed for all ages and abilities. The scenic race course stretches from the U.S. Navy Memorial at 9th Street NW, down Pennsylvania Avenue to 3rd Street and back again. Proceeds benefit the U.S. Naval Sea Cadet Corps and Navy Safe Harbor Foundation.
The Navy Mile was also the final stop on the 4th Bring Back the Mile Grand Prix Tour, and at the race, final GP placements were determined with Ben Blankenship and Emily Lipari earning #Tour2017 titles, respectively.
Established and organized by the National Capital Council of the Navy League to celebrate the Sea Services, the Navy Mile is presented by USAA. Other sponsors include Austal, BAE Systems, CNA Analysis and Solutions, Cobham, Elbit Systems, General Dynamics, Huntington Ingalls Industries, Lockheed Martin, Mission Essentials, Potomac River Running Stores, Raytheon, Rockwell Collins, Subsystem Technologies Inc and Under Armour.
3rd The Navy Mile presented by USAA
Bring Back the Mile Grand Prix Tour 2017 Finale
Washington, DC, Sunday, October 1, 2017
MEN
1) Kirubel Erassa (GA), 4:05.20, $3000
2) Willy Fink (VA), 4:05.37, $2000
3) Luis Vargas (NC), 4:05.46, $1250
4) Ben Blankenship (OR), 4:06.63, $750
5) Daniel Herrera (OR), 4:09.04, $500
6) Travis Burkstrand (WA), 4:11.24
7) Sam Penzenstadler (VA), 4:11.25
8) Andy Phillips (CO), 4:11.66
9) Dey Dey (NY), 4:12.14
10) Cyrus Korir (KEN), 4:12.14
WOMEN
1) Eglay Nalyanya (KEN), 4:44.30, $3000
2) Rachel Weber (OH), 4:47.82, $2000
3) Margaret Connelly (CO), 4:48.86, $1250
4) Calli Thackery (GBR), 4:51.72, $750
5) Alyson McGonigle (VA), 5:03.60, $500
6) Myah Hicks (VA), 5:03.74
7) Francine Nzilampa (DRC), 5:09.87
8) Emily Koehle (MD), 5:09.98
9) Erin Sicher (DC), 5:12.90
10) Jacqueline Kasal (DC), 5:15.30
Complete results HERE.