Reality Mile set to go at Warwick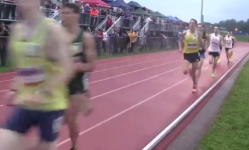 May 27, 2014
The purpose is produce a sub-4 effort, thus making the dream of running sub-4 a reality.
By Ken McMillan, Times Herald-Record
The annual Fast Times Relays track and field meet on Tuesday, May 27 at Warwick is an opportunity for top high school runners to hone their relay skills and shave precious seconds ahead of state qualifiers and championship meets. It is also an exhibition showcase for some of the best Milers.
The big event at Tuesday evening's meet is the Reality Mile, a race featuring nine men bidding to break four minutes in the four-lap event. Local high school graduates Stephen Furst (Goshen), Dylan Lowry (Cornwall) and Mike Pressler (Valley Central) are among the competitors.
The meet record is held by Bobby Mack at 3:59.70.
Continue reading at: www.recordonline.com