Fifty Athletes of the Year by State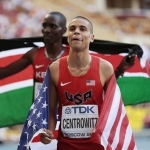 December 04, 2013
Six Milers top state picks led by 2013 World Championship medalists Matthew Centrowitz and Brenda Martinez
By Jesse Squire, Daily Relay
This is the time of year for Athlete of the Year awards. USA Track & Field is announcing theirs this week, Athletics Canada just announced their nominees, and the USTFCCCA will reveal its Bowerman Award winners later this month.
Here at the Daily Relay, we know that this is far too big a country to pick just one athlete of the year. This is the United States, after all. So I picked fifty athletes of the year, one for each state.
Athletes were assigned to states not by their current residence but by their hometown. "Hometown" can mean a lot of things, especially if someone moved around a lot, so state representation was determined by where they went to high school. This lead to some funny things; Bernard Lagat could not represent any state (since he went to high school in Kenya) and one state is represented by an athlete who competes for another country.
U.S. Milers were selected for six states (12% of the total).
Continue reading for the complete 2013 list at: http://dailyrelay.com