Finding Meaning in a One Mile Race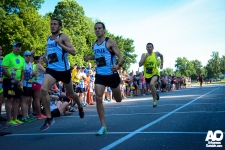 June 16, 2014
So Katie, if you asked me again, "What does being at the Go! Mile mean to you?" I'd say, "This is where it all starts."
By Joe Jacobs, ArkansasOutside.com
Spring and early summer are favorite times for me to be in Burns Park, the large municipal park in North Little Rock which hosts events such as Duathlons, Mountain Bike Races, Dragon Boat Races, Adventure Races, Cyclocross and Criteriums and recent host to the Arkansas Trails Day celebration. The park has been a major player in outdoor recreation in Central Arkansas for many years, once a part of Camp Pike, a military training base during World War I and then becoming part of Camp Robinson just before World War II, the property was sold as surplus land in the late 40s.
Dr. William Milton Burns, local physician and two term mayor, took great interest in the property and was eventually granted $20,000 to buy 870 acres of the property for the city. Dr. Burns was very interested in youth sports and health having been the team physician for the North Little Rock High School Wildcat football team. Once the land was acquired, Dr. Burns worked tirelessly with volunteer groups to improve the property by building the covered bridge and lake to give kids a fishing hole. He was also instrumental in building pavilions and picnic areas. In 1950, the park was named for Dr. Burns.
Over the following years, with leadership from the city and the parks commission, the park greww to 1700 acres with golf courses, hiking, mountain biking and horseback riding trails, soccer, baseball and softball fields, and many other amenities. In recent years the Arkansas River Trail extended through the park connecting it to other parks on both sides of the Arkansas River.
This past Saturday morning, I was sitting in the middle of a parking lot in the park, performing last minute checks on camera equipment as it would be my job to capture the finish of the Go! Mile race in photos. I was distracted by a cottonwood seed slowly floating between my eyes and the back of the equipment, reminding me to look up and around. The gentle, snow-like descent of the seeds could be seen in the morning light of a nearby grassy area; a soothing, comforting, quiet motion that seemed to soften the edges of the hurried hive of runners as they prepared for this sprint race.
Continue reading at: www.arkansasoutside.com