First-year pro runner Drew Hunter joins rare company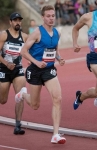 July 22, 2017
"I knew 3:36 was fast and obviously really good for my age. …It shows I'm off to a good start…and it's a good club to be in for sure. It's exciting to know I'm on the right path."
By Kelyn Soong, The Washington Post
This was hardly the life Drew Hunter envisioned for himself when he was lighting the track world on fire as a high school phenom and sub-four-minute-miler at Loudoun Valley High. As he sat in his parents' home in Purcellville, Va. in early June watching the NCAA Outdoor Track & Field Championships on television, Hunter began to ask himself, "What if…"
What if he decided to run for Oregon instead of turning pro right out of high school? What if that was him in the NCAA finals, using his stellar kick to claim the 1500 meter title as a freshman?
These were thoughts that have occasionally run through Hunter's mind since signing a 10-year pro contract with adidas last July, a decision that the five-time All-Met weighed for several months.
"I don't think regret is the right word, but it's almost like being injured. You watch your competitors, you see yourself right there," Hunter said recently in a phone interview. "When I watch NCAAs, I get a gut-wrenching feeling that I'll never get to experience running for a university, just knowing I could be one of the best [collegiate] runners right now."
It was not an easy transition for the 19-year-old to go from being the top high school runner with limited competition to struggling to even podium on the pro circuit. But with each month, Hunter has been encouraged by his progress, slowly adapting to the often-lonely life of a teenage professional runner.
Continue reading at: washingtonpost.com