Frances Barger, 80 years & running fasting than you!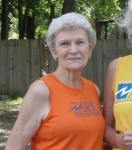 June 27, 2014
"I'd like to be faster," said Barger, a member of the Arkansas Running Klub
By Arkansas Times
Frances Barger doesn't make a big fuss over her running records. She says she's never been a real fast runner. She's even thinking of pitching some of her trophies and plaques, and keeping only the "special" ones in her display case. (She says her kids can have the rest if they want them.) She also doesn't like to train in the rain. She's laying off that.
But that doesn't mean she's not competitive. She hopes to do well this Saturday in Benton, the Arkansas Runner 2 Mile sponsored by the Saline County Striders, maybe as well as she did last Saturday at Burns Park, when she set a state record.
Frances Barger, it should probably be noted, is 80. You're probably feeling a little useless right now, aren't you? She ran the recent Go Mile run, sponsored by Go! Running, in a time of 10 minutes, 43 seconds. That's a record in her gender and age group for Go! Running races. She also holds the record for the 75 to 79 age group, 10 minutes and a half second.
Continue reading at: www.arktimes.com