Galen Rupp Now 5th Fastest Indoor Miler Ever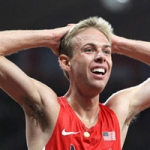 January 28, 2013
Olympic 10,000m silver medalist runs 3:50.92 at low-key Boston meet.
By Peter Gambaccini, Runner's World
Galen Rupp's 3:50.92 at the BU Terrier Invitational in Boston on Saturday makes him the second fastest American indoor Miler of all-time behind Bernard Lagat, who has run 3:49.89. And he's now fifth on the all-time indoor Mile list, a feat that glitters even more impressively when you look at the four names ahead of him: Hicham El Guerrouj, Eamonn Coghlan, Lagat and Noureddine Morceli. August company indeed.
By 2012, Rupp had developed the speed to outlast Lagat in the 5000 meter run at the U.S. Olympic Trials, and to outgun everyone except his training partner Mo Farah in the final 150 meters of the London Olympic 10,000. An even stronger indicator of what might be possible in that Boston Mile was the new 1500 meter personal record of 3:34.75 Rupp ran in the spring of 2012. That was a more accurate predictor of what might come to pass than was Rupp's modest indoor Mile PR of 3:57.10.
But as Rupp told Flotrack, the idea of challenging Lagat's American record didn't enter his mind until about three weeks ago, when, as he recalls, "Alberto [Salazar, his coach] brought it up and said, 'You know, I think you might be able to come close to that record.' I guess I'd never really thought about it. We'd just been in a real hard training period, and so we were focusing on getting the next workout done."
But Rupp did surmise that he was in better Miling shape than when he ran his 1500 meter best, and he backed off a bit in his training. He had praise for his pacesetters on Saturday, Stuart Ross of Boston University and the Nike Oregon Project's Dorian Ulrey. There was no real competition for Rupp in Boston; runner-up David McCarthy, an Irishman who attended Providence College, was second in 3:57.22.
Post-race, Rupp was not upset by a near miss in his American record attempt. "There's no harm in going after it," he said. "You can never be too disappointed when you get a PR." The Boston University facility was "pretty close to as loud as it was at the Olympics," noted Rupp, and while that cacophony prevented him accurately hearing his splits, he found the high decibels helpful on the last couple of laps. "When you hear that noise, it kinds of takes your mind off how bad you're hurting and you just keep driving forward to the finish."
Continue reading at: runnersworld.com