GO! Mile Interviews – Cortney Allison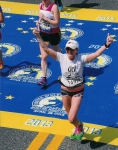 June 13, 2014
Cortney Allison is at home in the marathon, so the GO! Mile is a definite challenge for this effervescent long distance runner.
By Joe Jacobs, Arkansas Outside
Cortney was too close for comfort in the Boston bombing last year, just a few minutes separated them. Now she's back running road races, but has also been helping to coach the Mount St. Mary's track team this year.
Go! Mile: Cortney, a quick question about the Boston bombing…has what happen to you there changed your attitude toward running big races, or has it given you more passion for the sport?
Cortney Allison: At first it effected my attitude toward big races. I ran another marathon just two weeks after the Boston bombing. That race was very emotional. It was difficult to focus on the sporting event when there had been such tragedy in my last event. And then during Boston 2014 I found myself wondering during the event if all was well on the course behind me and ahead of me. But other than those instances, I believe my passion is probably stronger. The running community is so excited and joyous at a start line. It is great to be a part of and I think appreciate that energy even more after April 2013.
G!M: You help coach the girls at the Mount, and your son had a great senior year in track for Catholic. Does that give you some drive and insight into running the GO! Mile. How will you compare to your son Jake's best Mile time!?!
CA: ABSOLUTELY! Those teenage athletes have no idea how motivational they are to me. Their perseverance and determination inspire me to work hard at my own running. I will never be able to post times as fast as they can…but I'm not too proud to use an age-equivalent calculator every now and then!
Continue reading at: www.arkansasoutside.com