Grant Fisher Keeps Winning the Big Ones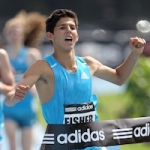 June 18, 2014
The junior at Grand Blanc High School mixes soccer and track and performs when it counts.
By Marc Bloom, Running Times
YEAR: Junior
SCHOOL: Grand Blanc High School
LOCATION: Grand Blanc, MI
Mile PR: 4:02.02
3200m PR: 8:55.75
With his 4:02.02 victory last Saturday in the adidas Grand Prix Dream Mile in New York, Michigan junior Grant Fisher completed a sweep of major high school championships in all three seasons. Last fall, Fisher, who attends Grand Blanc High School, won the Foot Locker Cross Country Championship in San Diego. In the winter, at the New York Armory, Fisher won the New Balance Indoor Nationals Mile title before completing the sweep in the Dream Mile. Fisher, who tends to keep a low profile during the regular season, went into each post-season event with times that weren't among the nation's fastest.
Dream Mile: With Josh Evans of Iowa leading the field at Icahn Stadium through the 800m in 2:02.17, Fisher ran patiently in mid-pack as planned. He moved into fifth at 1000 meters, then into third around the turn, and was in second at the bell lap. Evans' 1200m split was 3:02.73 and he had a 5-meter lead over Fisher. With 200 meters to go, there were six boys still in contention. A confident Fisher bolted ahead with a roundhouse sprint for a decisive triumph. His last lap was in 58 seconds.
Continue reading at: www.runningtimes.com