High School Dream Mile in Connecticut Celebrates 50th Anniversary of Ryun's HS Sub-4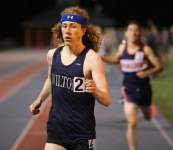 May 17, 2015
Spencer Brown's defending 4:12.25 leads 9 other boys under 4:20 at 9th edition in Danbury
By Jim Gerweck
DANBURY - Connecticut may not be as enlightened as its neighbor to the immediate north, not having joined Massachusetts in keeping the Mile at state championships, but it might have drawn one of the deepest collections of high school middle distance runners in the country this year. And when almost all of them came together under a cool Friday evening on the fast Danbury High School Mondo track to run that extra 9.344 meters, the result was truly special, with 10 boys dipping under the 4:20 mark at the 9th Danbury Dream Mile Invitational on the 50th anniversary of Jim Ryun's historic sub-4 Kansas state championship run.
Leading them all was defending champ Spencer Brown, a senior at nearby Wilton High School. The Georgetown-bound Brown (above) followed the rabbit through an opening 409 meters in 63.18, then took over lead duties by himself, a good 15 meters clear of the field into a cool and noticeable breeze. Brown clicked off subsequent laps in 64.77 and 63.07, then kicked at the bell to come home in 4:12.25, almost a second ahead of fast-closing McMahon junior Eric VanderEls, who had chased Brown over 1600 meters last Saturday at the Loucks Games in White Plains. Ridgefield's Austin Gilbert had the fastest last lap, 59.75, to take third in 4:14.03.
Brown's time wasn't as fast as his meet record 4:11.16 from last year, where he edged Matt Chisholm by a mere hundredth of a second in one of the most exciting Mile races ever seen in the Nutmeg State, but given the time trial-like nature of the run might have been equally as impressive.
With league championships on the schedule right after Memorial Day and the state class meets the week after, a big group of runners from Connecticut showed that given the chance to run the Mile, they can truly make the distance magical.
Complete Danbury Dream Mile results at: http://paynescornertiming.com