History on The Boards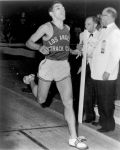 February 19, 1962
The starter's gun in Los Angeles sends off Jim Beatty on the fastest indoor Mile ever run. The field from the pole: Tabori, Beatty, Grelle, Close, Martin.
By Tex Maule, Sports Illustrated
Murray Halberg, an almost painfully thin New Zealander with cool light-blue eyes under pale bushy eyebrows, had just won a 2-Mile race in the Los Angeles Times indoor track meet. Now, a few minutes later, he seemed completely rested. He had run a hard, driving first Mile in 4 minutes 13 seconds, leaving the other competitors (including Canada's Bruce Kidd) far behind. The second Mile was much slower as Halberg tired. It was not a typical Halberg race at all. He usually wins his races on his finishing kick.
Someone asked him why he had run the first quarter Mile in 60.3 seconds, a violent tempo for so long a race. "I hoped to do it under 60," Halberg said. "Most Yanks don't like a fast early pace, you know. Then later in the race it gives me a chance to use my strength and they can't use their speed." Halberg's time in the 2-Mile was a very respectable 8:42.5, well off his own indoor record but good enough to set a meet and an arena record.
Before the evening was over, a small Yank with Halbergian stamina and even more speed disproved Halberg's theory of American distance runners. Jim Beatty, running with three of his Los Angeles Track Club teammates and with outsider Peter Close, broke the American indoor Mile record in a typically meticulous race planned almost to the second by his coach, Mihaly Igloi. Beatty broke the record held by Ron Delany by 2.5 seconds, running the world's first sub-4 minute indoor Mile in 3:58.9.
Said Peter Snell, Halberg's countryman, who broke his third record in two weeks at this same meet, "I'm glad I was not in that Mile. I don't think I would do so well on the boards." Snell had lowered Herb Elliott's outdoor Mile record two weeks ago, clocking 3:54.4.
Continue reading at: sportsillustrated.com
Full video of Beatty's historic Mile race below.