Hoosier Native Morgan Uceny Falls During 1500 Meter Final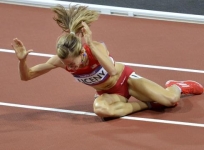 August 10, 2012
By David Woods, Indianapolis Star
LONDON – This is the other side of Olympic glory.
Half a lifetime of preparation, of dreaming, shattered in an instant.
Hoosier native Morgan Uceny fell Friday night in the 1500 meter final at the Olympic Games. Afterward, she knelt on the track, head down, sobbing and stayed there well past the end of the race.
Eerily, the 27-year-old from Plymouth, Ind., also fell in last year's World Championships at Daegu. Yet she had such a strong resume that she was ranked #1 in the world in 2011.
Continue reading at: indystar.com