Hundreds Expected to Participate in Amazing Mile Children's Run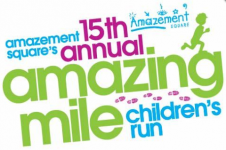 September 24, 2015
"Witnessing the determination in the faces of our youngest community members as they run in downtown Lynchburg is truly inspirational!"
From WSET-TV
Thousands of runners are expected to take part in the Virginia Ten Miler this year - but young runners will have their own opportunity to shine the evening before.
The Amazement Square 15th Amazing Mile Children's Run expects to have nearly 700 participants ages 12 months to 13 years to take part in the 1/4 Mile, 1/2 Mile and 1 Mile runs.
All three will be held on Friday, September 25, with the start and finish line on Jefferson Street beside Amazement Square.
The course will even include a "mini-farm basket hill" (the journey up Farm Basket Hill is the most notorious part of the Virginia Ten Miler) for the 1/2 Mile and 1 Mile run.
Continue reading at: www.wset.com