Hundreds in Duluth run Minnesota Mile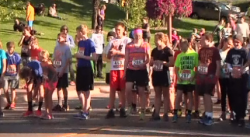 September 14, 2015
Jack Bolas and Gabriele Grunewald secured first place in the race for their genders.
By Kati Anderson, Northlands News Center
Hundreds of runners flooded Downtown Duluth this morning for the Grandma's Minnesota Mile.
Racers started near Fitger's Plaza and ended near the Starbucks on Superior Street.
The event featured five divisions including a kids race and a wheelchair race.
The race is a short one and is a course anyone at any ability level can do.
"I'm looking forward to it being a short race so I can actually finish it and hopefully get a good time and use this as a building block for more races in the future," said Ryan Anecki. It's his first time running the race.
Continue reading at: www.northlandsnewscenter.com