In his brother's footsteps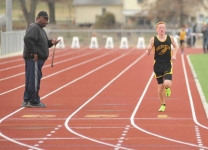 April 22, 2015
Smithton's Isaac Calvert nears school records held by his brother Benjamin
By Eric Ingles, Sedalia Democrat
Many things motivate Smithton distance runner Isaac Calvert from his faith in God to his mother.
He is also motivated by following in the footsteps of another Smithton distance runner, his brother.
"I always want to do as well as my brother did when he was in high school," he said.
Benjamin Calvert still holds the school records in the 1600m and 3200m. His time in the 3200m of 10:14.45 set in 2010 and his time of 4:39.92 in the 1600m set that same year are still faster than Isaac's best, but Isaac is closing in, one second off in the Mile and five seconds off in the two Mile.
"It's always good as an older brother to hear that you are motivation for your younger brother," Benjamin said.
Isaac hopes to reach his brother's times between now and the state meet.
"If he breaks it, he breaks it, that's the way it is," Benjamin said. "If anybody does it, I'd like it to be him to keep it in the family."
Continue reading at: www.sedaliademocrat.com