Jenny Barringer Simpson's persistent competitiveness marks Olympic journey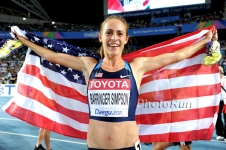 July 22, 2012
By George Diaz, Orlando Sentinel
The first step of Jenny Barringer Simpson's athletic career began as a third-grader competing in a Mile race around a soccer field. She finished second to a girl named Brittany Baxter.
Brittany went to become a cheerleader at Oviedo High School.
Jenny went on to become a 5-time state champion in track and 3-time state champion in cross country at the same school.
Continue reading at: orlandosentinel.com