Jim Beatty Interview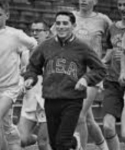 February 10, 2015
That last quarter Mile was run out of fear because I didn't know what I had to negotiate.
By Gary Cohen
Jim Beatty is the first person to run a sub-4:00 Mile indoors which he did on February 10, 1962 when he ran 3:58.9 at the Los Angeles Invitational. The trailblazer is also the first American to run sub-3:40 for 1500 meters, sub-8:30 at 2 Miles and a sub-14:00 5000 meters. He represented the United States in the 1960 Rome Olympics at 5000 meters. Jim won the gold medal at the both the 1961 and 1962 US-USSR dual meets and the silver medal in the 1963 Pan Am Games in Sao Paulo, Brazil, both at 1500 meters. Beatty broke over a dozen U.S. and three world records, and was the first and only to simultaneously hold U.S. records at 1500m, Mile, 3000m, 2 Mile, 3 Mile and 5000m. Jim won the 1960 Olympic Trials 5000 meters and won four U.S. titles in the Mile (1962) and the Mile indoors (1961-63). He raced collegiately for the University of North Carolina where he was NCAA Cross Country (1955), 2 Miles (1955) and 5000m (1956) runner-up. Additionally, Jim won 11 Atlantic Coast Conference titles in Cross Country (1954-56), Mile indoors (1955-57), 2 Mile indoors (1955-57) and Mile outdoors (1955-56). At Charlotte Central (NC) High School he won the state Mile title in 1952 and 1953, setting a State record of 4:31.9. His personal records include: 880 yards – 1:49.6; 1500m - 3:39.4, Mile - 3:55.5, 2 Miles - 8:29.8 and 5000m - 13:45.0. He was inducted into the North Carolina Sports Hall of Fame in 1963, the USATF HoF in 1990 and the Greater Charlotte Sports HoF in 2004. He won the Sullivan Award and was the first recipient of the ABC's Wide World of Sports Athlete of the Year, both in 1962. He resides in Charlotte, NC with Paulette, his wife of 38 years. Jim was gracious to spend over two hours on the telephone in January 2015. His son, Tully, is working on publishing Jim's life story, so stay tuned for this upcoming book.
GCR: Many athletes are known for championships, world records or gold medals, but only one can say he is the first to run a sub-4 minute Mile on an indoor track. Now, 53 years later, how does it feel to be that man?
JB: It still feels great. From the time it entered my mind to the time I spoke to Coach Igloi about it to the time it came about on February 10, 1962 at the LA Times meet at the LA Sports Arena, nothing has changed from that night until today. It's the same. I still get sweaty palms when I put the DVD on and watch it again. Nothing has changed in 53 years. It's nice when people often refer to me and say things like, 'Roger Bannister was Mr. Outside and you're Mr. Inside.'
GCR: Speaking of Roger Bannister, it was almost eight years after he broke the Mile's 4 minute barrier, but no one had done it on the tight turns of the standard 11 laps to the Mile board tracks used indoors. How strong was the impetus to be the first, especially since there were several other capable runners at that time?
JB: I'm going to answer that in this fashion – at the end of the 1961 season when I was running over in Europe and was ranked #1 in the world in the Mile and 1500 meters, I actually had irritated a buttocks muscle when I slipped on some wet stones in Poland in Warsaw during the USA vs. Poland track & field meet. But it wasn't enough for me to not compete and run. As a matter of fact, I think one of the last races I had was at the renowned Bislett Stadium in Oslo where I broke the stadium record and also the American record at 1500 meters. Ironically, the record I broke at Bislett was the record that Sandor Iharos, Coach Igloi's great Hungarian runner, had done when he set the world record for 1500 meters at Bislett. So the record stayed in the House of Igloi, one might say. Anyway, I came back to the States and sometime in September and the early part of October I knew that I had to get totally healed for the indoor season, so I just did a little easy jogging for three weeks or more to let my buttocks injury heal. It was during that particular period that suddenly the light turned on and the light said to me, 'the time has come for someone to run an indoor Mile under 4 minutes'.
Continue reading at: garycohenrunning.com