Kampf Eyes Repeat of USATF Road Title at Medtronic TC 1 Mile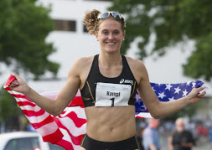 May 13, 2015
Second stop on Bring Back the Mile's 2015 Grand Prix Tour; live broadcast begins at 8:50pm ET at USATF.tv.
From USA Track & Field
Hometown favorite and reigning USATF 1 Mile Road champion Heather Kampf and fellow Minnesotan Garrett Heath lead the women's and men's fields at Thursday evening's USATF 1 Mile Road Championships, hosted by the Medtronic TC 1 Mile in Minneapolis, Minnesota.

The USATF 1 Mile Road Championships are the sixth stop on the 2015 USATF Running Circuit. The top fifteen finishers at each race on the circuit qualify to compete in the 2015 U.S. National 12K, which takes place on November 15 in Alexandria, Virginia.

Kampf won over a strong field in 2014 and has since continued to pile up impressive one Mile road victories across the country. After placing second at the B.A.A. Mile earlier this year, Kampf stormed to victory at the Grand Blue Mile, offering plenty of momentum heading into Thursday's race. The Team USA Minnesota runner has her eyes set on a repeat and will certainly pull energy from the Twin Cities crowd.

Former University of Michigan teammates Amanda Eccleston and Rebecca Addison are two of Kampf's strongest challengers. Eccleston finished tenth in the 1,500m at the USATF Outdoor Track and Field Championships last year, where Kampf finished sixth, while Addison already owns 4:10 1500m and 2:06 800m seasonal bests to her name.

Two other athletes with Midwest ties should find themselves in contention in the later stages of the race, too. Former University of Illinois NCAA champion Angela Bizzarri, who placed tenth at this event in 2014, seeks to challenge for top three, while former University of Wisconsin-Oshkosh 17-time national champion Christy Cazzola looks to make her mark over her fellow professional competition.

Other notable challengers include Rogue Athletic Club teammates Becca Friday, Kristen Findley and Kampf's Team USA Minnesota teammate Meghan Payton.

Heath, a member of the Brooks Beasts, enters Thursday's event looking to take home the national title once again. Heath placed third in the USATF 1 Mile Road Championships last year, but won the title in 2013. Heath seeks to continue building momentum on his season after a third-place finish at the Grand Blue Mile, as well as a 13:16 runner-up finish, clocking over 5000m at the Payton Jordan Invitational late last month.

Heath's top competition includes 2012 USATF 1 Mile Road champion Craig Miller, 2013 runner-up Jeff See and young pro Trevor Dunbar. For Miller, he looks to regain the fitness he showed in 2012 and 2013, when he was a contender in nearly every road race he ran. Having finished twelfth at the Grand Blue Mile earlier this season, he seeks some redemption in this week.

For See, he begins to narrow in his middle distance focus this weekend after spending the first part of the season testing out his fitness over the half marathon at the USATF Half Marathon Championships and in the 5000m on the track at the Payton Jordan Invitational. Similarly, Dunbar shifts his attention from the 10,000m and 5000m events on the track to shorter races. With a 3:57 Mile best on the track, he owns one of the fastest personal bests in the field.

Not to be overlooked, Frezer Legesse is a likely challenger for the top spot. The former University of Oklahoma standout enters Thursday's race with a third-place finish to his name at the B.A.A. Mile last month.

After a seventh place, top American, finish at the Chevron Houston Marathon back in January, Aaron Braun gets his racing season going again. While the Colorado resident has never broken four minutes in the Mile, he's sure to contend for a top-three finish this time around.

The field includes other notable contenders such as Team USA Minnesota teammates Eric Finan and Jon Peterson, along with Girma Mecheso, John Simons and Scott Smith.
The event is also the second stop on the Bring Back the Mile Grand Prix Tour 2015 that offers a $7500 tour prize purse.

Live Coverage
The USATF 1 Mile Road Championships will be broadcast live beginning at 8:50 pm ET at USATF.tv. Race video, results, post-race interviews and photos will be available shortly after the USATF 1 Mile Road Championships, in cooperation with RunnerSpace.com. Join the conversation on Twitter with the hashtag #USARC.
Visit usatf.org for more information.