Kemboi, Parsons Win Fleet Feet Liberty Mile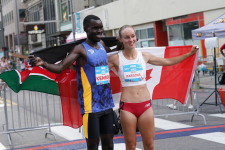 July 07, 2023
The family-friendly "pop-up" running event with record 1,600 entrants featured 10 heats of runners, ages 2 to 86 in downtown Pittsburgh; $23,400 prize purse awarded
From P3R
PITTSBURGH – A record of more than 1,600 were inspired to run their BEST. MILE. EVER. at the 12th Fleet Feet Liberty Mile on Friday evening. After the race, spectators and racers were able to see two exciting finishes in the Men's and Women's Pro Miles with Amon Kemboi and Stefanie Parsons breaking the tape in 4:00 and 4:35, respectively.
The family-friendly "pop-up" running event featured 10 heats of runners starting with the recreational level and ending with some of the best Milers in the country. There were plenty of fun pre- and post-race activities including a dynamic warmup with Global Human Performance, cooldown stretch with YogaSix, shopping at the 4RUN2 booth and photo ops.
U.S. Olympian and 2-time Fleet Feet Liberty Mile champion Ben Blankenship took an early lead at 400 meters and led the pack through 800 meters in 2:02. A pack of runners stayed together through 1200 meters. With 200 meters left to go, Kemboi dropped the hammer and crossed the finish line first in 4:00, followed by Jack Anstey in 4:01 and Blankenship third in 4:02.
"During most of the race, I was relaxing up front wondering who was going to make a move," Kemboi said. "At 400 meters I decided to make a move, and at 200 meters I knew that I had it and was able to hold onto until the finish."
Grace Barnett took an early lead in the women's race and at 400 meters clocked 65 seconds. She maintained the lead until 1200 meters when Parsons pulled up next to her. Parsons was able to pull away to break the tape, while Barnett finished second in 4:39, and Gina McNamara took third in 4:39.
"This was my first road Mile, so it was kinda weird running so fast in the middle of the road," Parsons said. "This was really fun, and I will definitely be back."
Hunter Steinau, 21, of Annapolis, MD and Hannah Long, 26, of Akron, OH, won the Unstoppable Heat presented by Brooks Running with times of 4:13 and 4:45, respectively. The Masters Heat presented by UPMC Health Plan champions were David Schofield, 41, of Mechanicsburg, PA and Sara Zambotti, 42, of Shelocta, PA in 4:28 and 5:33, respectively. Timothy Vigil, Jr., 59, of Sante Fe, and Anabelle Broadbent, 55, of Perkasie, PA, were crowned champions of the National Senior Games Heat. The men's and women's winners of each of the heats took home a $500 prize.
William Tew, 16, of Pittsburgh, and Lyla Brew, 17, of Coraopolis, PA, were the champions of the RUN Varsity Heat presented by P3R, which gave competitive runners ages 14-19 an opportunity to compete in a heat of their own. They finished in 4:46 and 5:18, respectively.
The Fleet Feet Liberty Mile Elite Running Derby returned for the third year in a row, and all participants, including Virtual Heat runners, were randomly assigned one of the participating elites. Runners who were assigned Pro Heat champions Kemboi or Parsons this year received a Brooks Running hat as a prize.
The Fleet Feet Liberty Mile is the second of three events participants need to complete to earn their #RUNwithP3R Challenge medal; the first was any event during the 2023 DICK'S Sporting Goods Pittsburgh Marathon Weekend of Events, and the final event is the 2023 EQT Pittsburgh 10 Miler on Nov. 5.
12th Fleet Feet Liberty Mile
Pittsburgh, PA, Friday, July 7, 2023
MEN
1) Amon Kemboi (KEN), 4:00, $4000
2) Jack Anstey (AUS), 4:01, $2000
3) Ben Blankenship (USA), 4:02, $1000
4) Reid Buchanan (USA), 4:02, $750
5) Nick Wolk (USA), 4:02, $500
6) Jesse Hunt (AUS), 4:02
7) Colin Kelly (USA), 4:04
8) Josh Higgins (USA), 4:08
9) Graham Crawford (USA), 4:08
10) Elias Graca (USA), 4:08
11) Ben Veatch (USA), 4:14
WOMEN
1) Stefanie Parsons (CAN), 4:35, $4000
2) Grace Barnett (USA), 4:39, $2000
3) Gina McNamara (MLT), 4:39, $1000
4) Stephanie Brokaw (USA), 4:43, $750
5) Emilee Trost (USA), 4:47, $500
6) Ellen Feringa (USA), 4:50
7) Maria Seykora (USA), 4:54
8) Lauren Finikiotis (USA), 5:05
For complete results and more, go to: libertymile.org