Ken Popejoy Returns to MSU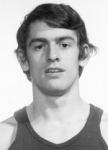 April 15, 2012
Arguably the best Miler in Spartan Track and Field history, Ken Popejoy spoke with MSUSpartans.com about his career and last weekend's reunion of the 1972 Triple Crown Track and Field team.
By Bernie Rosendahl, MSU Athletic Communications Contact for Track & Field and Cross Country
EAST LANSING, MICH. - It was 40 years in the making. Following last Saturday's Spartan Invitational meet, twenty-one members of the men's 1972 Triple Crown Track and Field squad made their way back to campus for a celebration of the team's accomplishments at the annual Michigan State Track and Field Awards Banquet.
The reunion, which was held at the Kellogg Center on the campus of Michigan State, was largely orchestrated by Ken Popejoy, a former All-American in the Mile who felt it was the right time to honor the 1972 squad that achieved what no other team has done in the history of the program: A Triple Crown...
...In 1972, Popejoy was the NCAA Indoor champion in the mile with a time of 4:02.9. He was also an Indoor All-American and won Big Ten titles in the outdoor and indoor Mile.

However, his most noteworthy achievement is that he was the first Spartan to run a sub-4 minute Mile.
Read complete article at www.msuspartans.com