Kerri Gallagher: From Running Dropout to World Championships Team Member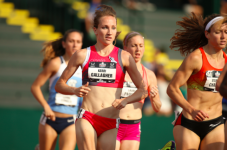 July 24, 2015
At this level of racing, it takes time to work on each aspect of the 1500.
By Peter Gambaccini, Runner's World
"Who's Kerri Gallagher?"
More than a few track fans asked that after the 26-year-old finished third in the women's 1500 at the USATF Outdoor Championships in June behind two-time Olympians Jenny Simpson and Shannon Rowbury. The finish entitled her to a spot on the team for August's world championships, which she secured earlier this month by running a personal best of 4:03.56 to meet the necessary qualifying standard.
Part of the answer is that Gallagher is a Fordham University grad who, after her final NCAA regional meet in May 2011, went into running retirement. Her college career had been solid, with Atlantic 10 Conference titles in the 800 and the Mile, but there was nothing that suggested she might one day be on a world championships team. "I didn't think there was much else left for me in running," she said.
She began working for Morgan Stanley Smith Barney as a client service associate for a wealth management group. The job in Manhattan was a happy fit for Gallagher, despite a lengthy commute from the Rockaways in Queens, and her boss was encouraging about her future.
Continue reading at: www.runnersworld.com