Kids finish Marathon program by running 1 Mile at a time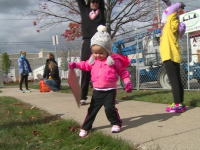 October 19, 2015
The children and their families completed the last 1.2 Miles of their Marathon program at the start and finish line of the Grand Rapids Marathon
From WZZM13 Staff
Running a marathon isn't easy, but Saturday more than 650 kids did just that.
Starting in August, children from 2 to 12 years old were asked to run one Mile, three times a week, building their mileage up to 25.
Saturday at the downtown YMCA, the kids finished the final 1.2 Miles of their run with family and friends.
Continue reading at: wzzm13.com