Kipyegon to take on the Mile in Monaco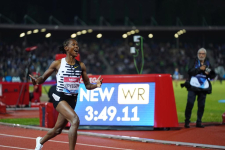 June 22, 2023
Two-time Olympic and world champion eyes third world record of 2023
From World Athletics
Kenyan distance superstar Faith Kipyegon will have the chance to showcase her brilliance in yet another discipline next month after breaking both the 1500m and 5000m world records on the Wanda Diamond League circuit in June.
Kipyegon broke the 1500m world record at the Florence Diamond League on June 2nd before following up with an even more breathtaking record in the 5000m in Paris a week later, making her the first athlete in Diamond League history to break the world record in two separate disciplines on the circuit.
The in-form Kenyan was already on the entry lists for next month's Herculis EBS Monaco, but a change in the schedule means she will now be racing in the Mile rather than the 1500m.
While the Diamond League points she amasses will still go towards the 1500m qualification campaign, the Mile will present a new challenge for Kipyegon, who last ran the distance at a Diamond League meeting in Oslo in 2016.
The Stade Louis II certainly has world record pedigree, with Kipyegon's Dutch rival Sifan Hassan having made history there with 4:12.33 at the Monaco Diamond League in 2019.
Could Kipyegon go one better and claim a third world record of 2023? Whether she attempts it or not, the Kenyan will certainly be the firm favorite when the world's best descend on Monaco on Friday, July 21st.
The Wanda Diamond League is the premier one-day meeting series in athletics. It comprises 14 of the most prestigious events in global track & field. Athletes compete for points at the 13 series meetings in a bid to qualify for the two-day Wanda Diamond League Final in Eugene on September 16-17.