LeBlanc runs 4:01.3, fastest Mile by Louisianan on home soil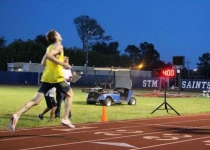 May 19, 2014
"If he would've broke [four minutes], I would've talked about it for the rest of my life."
By Johanna Gretschel, NOLA.com | The Times-Picayune
Four laps, each clocked in precisely sixty seconds. That's thirty seconds per 200 meters, 15 seconds for each straightaway and each snugly run curve. To speak of it, a 4-minute Mile is simple math. But to do it requires a little magic.
As of April 15 of this year, 420 American men in history have broken 4 minutes for a Mile. Thirteen Milers have added their names to the list so far this year. Only three Louisiana natives have ever accomplished the feat, but never in their home state.
Jarrett LeBlanc (Hathaway '08, McNeese '12) came close on Sunday night, running 4:01.3 in a valiant, mostly solo effort at Louisiana Running Company's Meet Under the Lights in Metairie.
By meet director Patrick Gavin's estimate, the fastest Mile produced by a Louisianan on state soil was his own 4:06 run as an LSU Tiger.
Continue reading at: http://highschoolsports.nola.com