Lessons from László Tábori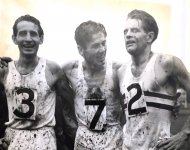 May 05, 2016
Five things we can learn from the third man to break 4 minutes for the Mile
By Bring Back the Mile for Meter Magazine
When we interviewed László Tábori for Issue #04 of METER Magazine, we sat down with him for more than two hours. Beyond his life story of how he came to be the third man to break 4 minutes for the Mile, how he defected from Hungary to the USA and how he went on to coach world record holders and Boston Marathon winners, we got a fantastic insight into his philosophy on coaching, racing and life. If you've ever competed, these five principles will make you a better runner.

#1 Anger is an energy
László: My second race was in the next town over and it was about 2K. With about half a kilometer to go, two guys behind and they clipped me. I took a dive and rolled over into the dust and mud. I was so upset that I got up saying bad words, like a little guy, and began to chase those two guys. I beat them. After that everything went smoothly.
Continue reading at: meter.tracksmith.com
László Tábori: The People's Sport, The People's Champion interview HERE.
EDITOR'S NOTE: László Tábori, the third man to go sub-4 in 1955, passed away on Wednesday, May 23, 2018. He was 86. We honor his memory as an athlete, Olympian, world record holder, coach, storyteller and good man. #Legend