Life on the run is rewarding job for Garrett Heath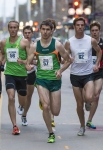 May 14, 2015
The Winona native has remained physically and financially healthy as a professional runner.
By Master Tesfatsion, Star Tribune
Garrett Heath's life is anchored on insecurity. For the past five years, the Winona native has made a living as a professional runner, traveling across the country and throughout Europe chasing his next check, or his last.
"It's not the most stable profession to be in, on top of not making a lot of money, but I can't complain too much," Heath said.
That journey continues Thursday when Heath, 29, returns home as one of the favorites in the Twin Cities 1 Mile road championships. He'll be looking for a nice payday in the popular event, which features 25 professional runners, 13 in the men's race and 12 in the women's. Winners earn $5000 each, and there's an additional $10,000 if a runner sets an event record.
Heath ran the second-fastest time in the event's history in 2013 at 3 minutes, 57.1 seconds. He finished second, however, to record holder Nick Willis, a silver medalist in the 2008 Olympics for New Zealand, who ran the Mile in 3:56.1.
Continue reading at: www.startribune.com